Paul's Ebook
is available
now
.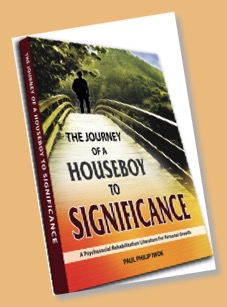 "The Journey of a Houseboy to Significance" by a Nigerian author and youth development advocate Paul Iwok is now available as an ebook online. You can download it
HERE
.


Iwok's autobiography, published in 2013, supports youth in making sense of their past and acts as a how-to guide to moving forward into success. "The Journey," which rapidly sold out its first printing, brought local, regional and international recognition to Mr. Paul Iwok's advocacy efforts.

Mr. Iwok shares a compelling story from his childhood to youth when he served as a servant boy to a kind family in Nigeria. "The Journey" captures his autobiographical story of transformational growth and change. It offers a road map for young people throughout Nigeria, the African continent, and the rest of the world.

"The Journey" is true, factual, and useful in that it offers practical insights and recommendations for how to change the circumstances of your life in today's world. Iwok shows that rather than expending energy fantasizing about moving from poverty to wealth and abundance, he preferred to invest that same energy in more fruitful directions.

As an Advocate, Iwok used the wisdom gained from his humble beginnings to support youth from Nigeria's Akwa Ibom State to succeed despite their lack of opportunities. This work enabled him to secure further professional development in England and the United States.

As fate would have it, the American training connected him with Derek Peterson, the Integrative Youth Development™ framework and programs' creator. (Peterson is the founder of the Institute for Community and Adolescent Resilience - Unifying Solutions (ICAR-US). This friendship has resulted in a new and improved way to work with the youth and measure his programmatic efforts' progress.

Today, Paul Iwok's initiative offers many youth a new lens to view their lives, increasing hope, motivation, and self-agency. Today, Paul and his wife are professional interns of the Institute and are working toward being certified as the first Integrative Youth Developmental Ecologists in Nigeria.

In the summer of 2019, the Institute sent one of their international educators, Kathrine Thompson-Stone, to tour Nigeria while supporting the education and efforts of Paul and his wife, Aniekan. These trainings placed Iwok's book in context and offered audiences "the story behind his story." During those events, this book's hard copies were in high demand by the young and the youthful.

Once the American representative returned to America, the author and his wife held focus group youth activities to grow the program and teach the young people how to create the web of support they need to become more resilient in reaching their goals. Through Paul Iwok's youth work and events, participants requested for his book. By placing the book online, Iwok hopes to offer a more affordable way to put the book in the hands of interested and deserving youth.
People have been waiting!

Get your copy of the Journey of a Houseboy to Significance.