Standing on Shoulders of Giants! 
Giants are born just like every other human being, but what distinguishes one from the other are their unprecedented strides to make a mark and add value to humanity, and as well, write their names in the history book. And truly, history is always kind and friendly to them.
It was on this premise that American Kathrine Thompson-Stone was compelled on her first ever visit to Nigeria in July 2019, decided to identify with the exact spot where Mary Slessor lived and died in Akwa Ibom State of Nigeria.
The effort and sacrifices of the Scottish Presbyterian Missionary who successfully put an end to the killing of twins should not be neglected by anyone.
Infact, we expect the government to make it a Tourist Site which can attract revenue to the state.
The IYD Nigerian program team led by Paul Philip Iwok and Aniekan Paul Iwok, embarked on a Sightseeing Trip to Use Ikot Oku Village in Ibiono Ibom Local Government of Akwa Ibom State on the 22nd July, 2019. This historical site is where Mary Slessor lived during her days in the Southern part of Nigeria before she passed on to higher Glory in 1915. We are inspired by her effort.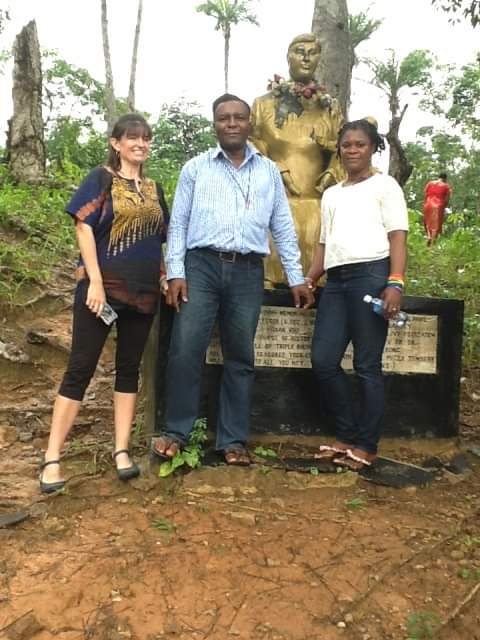 Who was Mary Slessor? (From Wikipedia)
Mary Mitchell Slessor (2 December 1848 – 13 January 1915) was a Scottish Presbyterian missionary to Nigeria. Once in Nigeria, Slessor learned Efik, one of the numerous local languages, then began teaching. Because of her understanding of the native language and her bold personality Slessor gained the trust and acceptance of the locals and was able to spread Christianity while promoting women's rights and protecting native children. She is most famous for having stopped the common practice of infanticide of twins in Okoyong, an area of Cross River State, Nigeria.