Good things are happening!
About Paul Iwok
Paul Philip Iwok is a youth developmental ecology instructor and the author of The Journey of a Houseboy to Significance, an autobiography of a Houseboy who increased his life's trajectory.
In 2013, his book was adopted by the Akwa Ibom State Ethical and Attitudinal Reorientation Commission (EARCOM) under Mrs Christy Obot, as the state advocacy campaign tool against the Domestic Servants social stigma. Since 2003, Amb Paul Philip Iwok has worked on behalf of children, teenagers, youth, and caring Adults in Nigeria, specifically within Akwa Ibom and Lagos States of Nigeria.
In 2005, he worked for Akwa Ibom State Ministry of Women Affairs and Social Welfare to handle the training of the State Children's Parliament members, which promoted the United Nations Declaration of the Rights of the Child. Amb Paul Iwok co-created safe learning environments where children could assemble and discuss their concerns and offer insights into their well-being, development, and thriving.
In 2006, he was selected and sponsored by Akwa Ibom State Government under His Excellency, Arc Obong Victor Attah to participate in a child development training Institute hosted by the British Association for the Study of Prevention of Child Abuse & Neglect (BASPCAN) at Yorkshire University, England. While there, he learned skills and made connections that increased his professional competence to amplify his community-building efforts. Amb Paul Iwok was widely acknowledged because of his efforts.
In 2013, he was once again sponsored by the Government of Akwa Ibom State under His Excellency, Governor Godswill Obot Akpabio to attend the Integrative Child/Youth Development (IYD) web of support training in Chicago, USA. Here, he became connected to Dr. Kimberly Svevo-Cianci, Ph.D the founder of Changing Children's Worlds Foundation, and Derek Peterson, MA, the founder of the Science and Practice of Integrative Youth Development™.
In 2019, Amb Paul Iwok and his wife, Aniekan, hosted Kathrine Thompson-Stone in Nigeria to fulfill the 2013 agreements made in Chicago. Under the guidance of Derek Peterson, Katherine Stone visited Nigeria and inaugurated the Integrative Youth Development (IYD) program and practices to audiences in Lagos and Akwa Ibom States.
Thereafter, Paul Philip Iwok and his wife were chosen to begin a lengthy educational process with practical seminars, training and workshops for children, teenagers, youths, caring adults, faith community leaders and families to become certified in IYD and prepare them to hold the license for IYD in Nigeria. Derek Peterson, the leader of IYD, works to support Amb Paul Philip Iwok and his wife Aniekan with internship and certification courses through Agora College USA in order to certify them as the first ever Youth Developmental Ecologists in Nigeria and on the African Continent. Paul is married with three Kids, Pauline, Harmony and Destiny.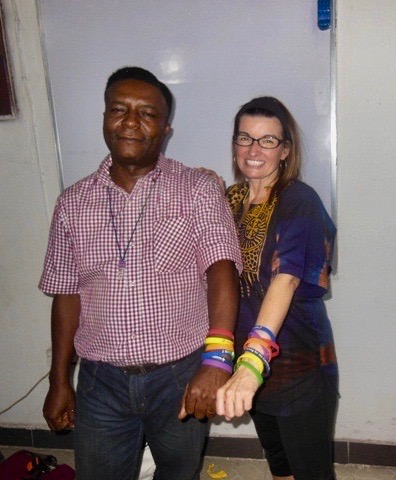 About Aniekan Paul Iwok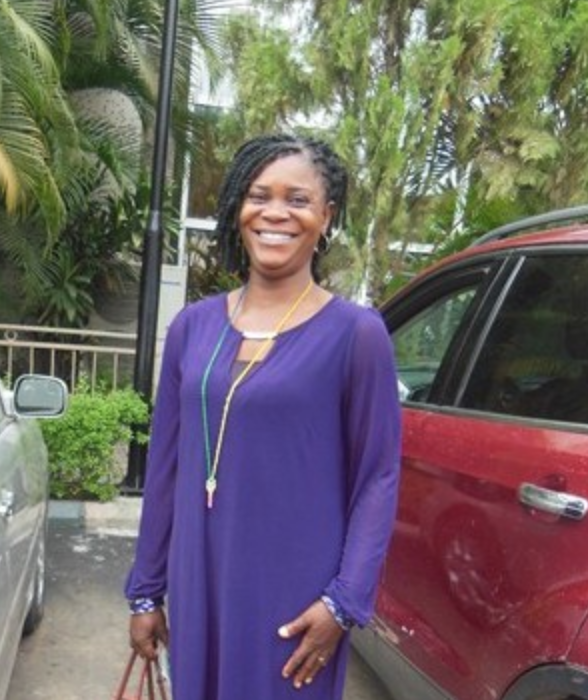 Aniekan Paul Iwok is a trained Caterer and a leader anywhere she finds herself but with deep passion for Children and youth development. She is working and playing some supportive roles to her husband on the propagation of the ideals of the Integrative Youth development™ Program in Nigeria. As a fast learner, she has mastered the fundamentals of the IYD and has been teaching young people the integrative youth development tenets alongside with her husband.
After her High School she had volunteered with several NGOs with objectives on children and youth development in Nigeria. She loves where children gather irrespective of their background, rich or poor. She had managed the UK Kiddies Nursery & Primary School in Ifako-Gbagada Lagos for a period of over two (2) years when the School was in dire need of someone who genuinely love to work around vulnerable children.
She had been trained on how to prevent domestic violence by the Project Alert on Violence Against Women supported by Open Society Initiative for West Africa (OSIWA). Aniekan had a very challenging upbringing experiences as a child, teenager and a youth which had spurred her to passionately get involved in enlightening the youths about how to build a web of support with the help of their Anchors, to enable them be more resilient in reaching for their goals in life.
Aniekan had volunteered in many children focused organizations and faith based communities but her vision became clearer in July 2019 during the visit of the American Kathrine Thompson-Stone to Nigeria. She has a dream of setting up children training Academy in her home town, and she believes strongly that nothing can stop her from achieving it. Aniekan has three wonderful kids to the glory of God.